Residents in south Braintree and north-west Chelmsford areas can now access an exciting on-demand, fully electric minibus service called DigiGo.
The Parish Council was pleased to be able to arrange and attend an information event for residents on 24th May at the bus stop by the Prince Louis Pub.
One of the first of its kind in the country, the service responds to demand rather than having set routes, with minibuses able to divert on and off journeys for passenger collection and drop off.
The service in south Braintree connects villages, including Great Notley, Black Notley and Rayne, to Braintree Bus Interchange, Braintree Railway Station, Braintree Community Hospital, Springwood Industrial Estate, Great Notley Country Park and many other locations as shown on the map below.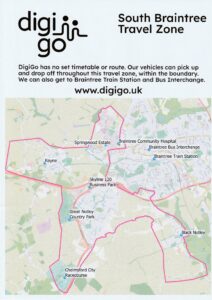 The new service operates seven days a week, from 7am to 10pm and caters for everyone; students, families, the elderly, and people travelling to work, with accessible minibuses available for people with disabilities, providing a flexible and environmentally friendly service for people who do not live close to public transport routes.
To book an on-demand journey, residents can download the TravelEssex planning app via their phone's app store or visit www.digigo.uk. After ordering, passengers can pay for their journey via the app and track the location of their minibus in real time. Tickets for the service can also be pre-booked up to seven days in advance.
Councillor Lee Scott, Cabinet Member for Highways Maintenance and Sustainable Transport at Essex County Council, said: "The DigiGo service is the first of its kind in the area, offering a new type of responsive shared public transport which enables people to simply book a journey to when and where they need to go.
"The aim through this trial is to create a service which really becomes embedded in local communities, attracting users of all ages and creating a platform to be rolled out in other parts of the county."